well, specifically, my right ankle. If I sew a lot, my ankle hurts the next few days and once in a while feels like it's going to give out on me. So instead of listening to my hubby, who said to quit sewing (
as IF
), I just bought an ankle wrap thing and it works wonders. LOL
So yesterday the magnetic snaps came so I could finish the Hibiscus purse that I made over the weekend. Ever since I got as far as I could go without the snap, I'd been trying to figure out how to finish it because there wasn't much room left between my label and the top where I needed to attach the outside of the purse to the lining. After the snaps came in the mail, I was really sweating all afternoon trying to think of what I was going to do. 5:00 came and I was walking out the door of work and a lightbulb went off!!! So as soon as I got home, I put supper in the crock pot (if you haven't already, check out this website
http://crockpot365.blogspot.com/
- this lady is using her crock pot every day for a whole year and she posts the recipes! I've made a few and so far they are really good! She was even on the Rachel Ray show!). Oh, last night we had Salmon and Spinach with Dill and Lemon - EXCELLENT and it only had to cook two hours on low. Where was I??? OK - So I put supper in the crock pot and sat down to finish the Hibiscus purse - here are the pictures: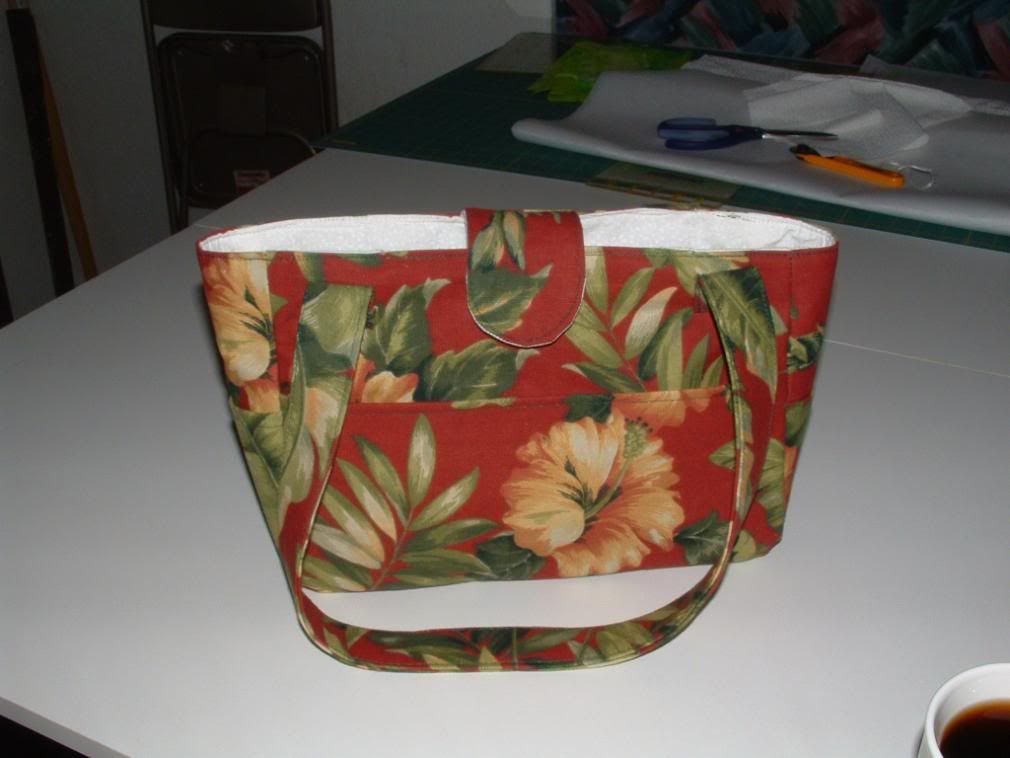 The pockets on the front and back are just wide enough to hold a magazine. Plus there are small pockets on each side. ALL the pockets have velcro closures.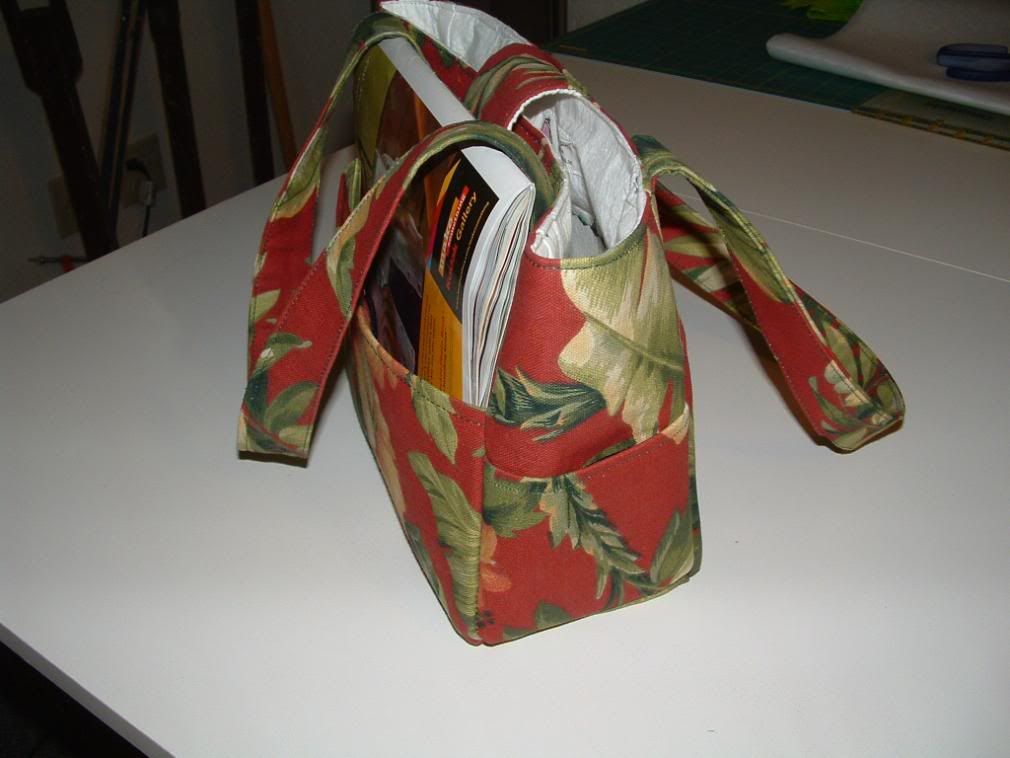 And the inside - you can see the "flap" I decided to use to close the purse (my
lightbulb
moment
).
And once I get sewing, I can't stop. I had this lime green fabric that I bought at WalMart as a remnant - I think I paid $1.00 for the fabric. Sunday night I had cut out pieces for the outside, lining and interfacing, so all I had to do last night was sew the "flap" and put everything together. Here is the finished Lime Green Purse: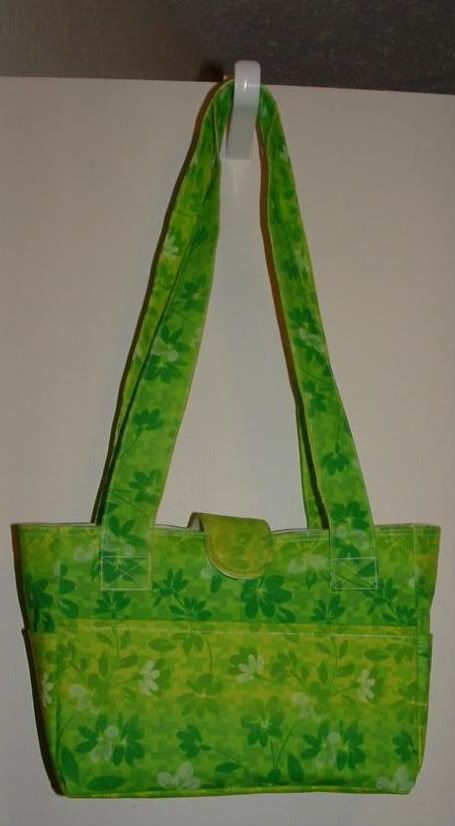 It's the same size as the Hibiscus purse so it will also hold a magazine. I also put pockets on the inside of the purses and hang a D-Ring to hold keys!! Great addition for organized people like me!!!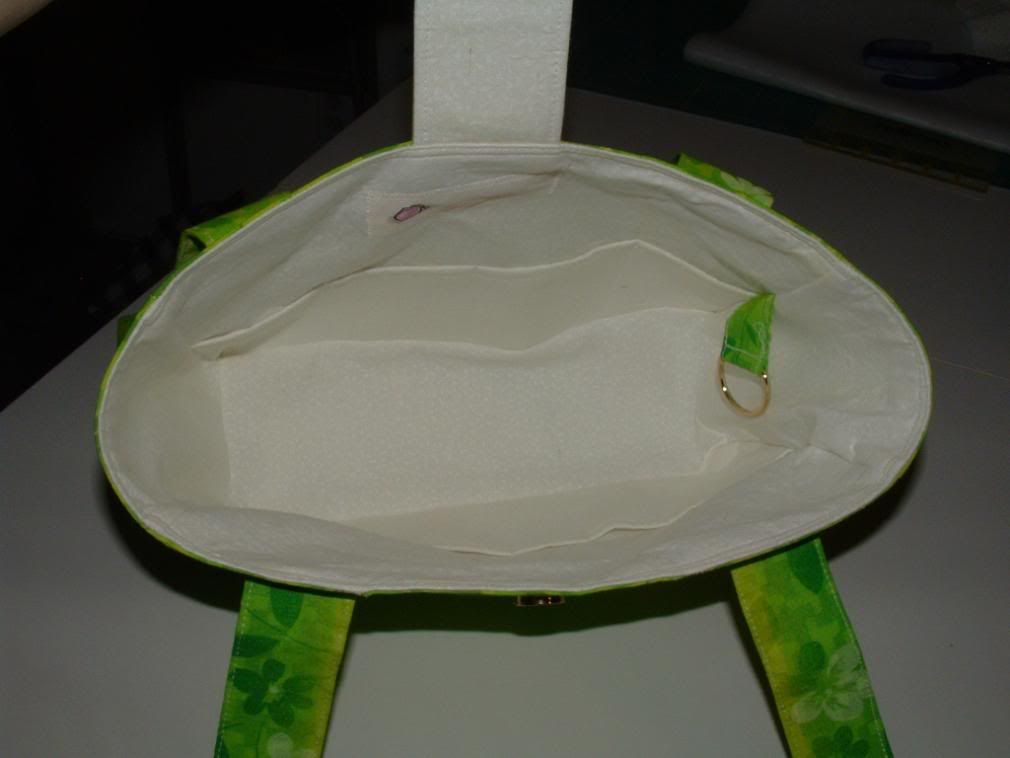 I haven't decided if I'm going to add these purses to my etsy shop yet. I REALLY like the Hibiscus one, so I may keep that for me, and the Lime Green one has a few "character flaws" on it.
PLEASE comment or send me an e-mail if you read my blog!!!!!!!
<3 Jyl