for Todd and I. It's been designed and hanging on my design wall for weeks. I actually worked more than 30 hours this last week so didn't have time to sew, but I decided to start on ours Friday night. I did receive an email from my FIL the other day and it was so sweet. "Oh, yes, wanted to tell you how much it means to sleep under "the quilt" every night. Thanks Jyl. " I cried when I read it. He's a man of little words, so that meant a lot to me. That kind of put a fire under me again to get ours done. Before I had actually sat down and made tags for it, number and letter combos so I could take most of it down and sew them. The tags were A through M for each row, then numbered 1 to 9 for each column. That actually made it go a lot quicker.
Here are pictures I took of it lying on the floor. I couldn't get it back up on my design wall because I have so much stuff there that we brought home from Nebraska at Christmas. (MIL's sewing stuff that I was given.)
I saved this sweatshirt for our quilt: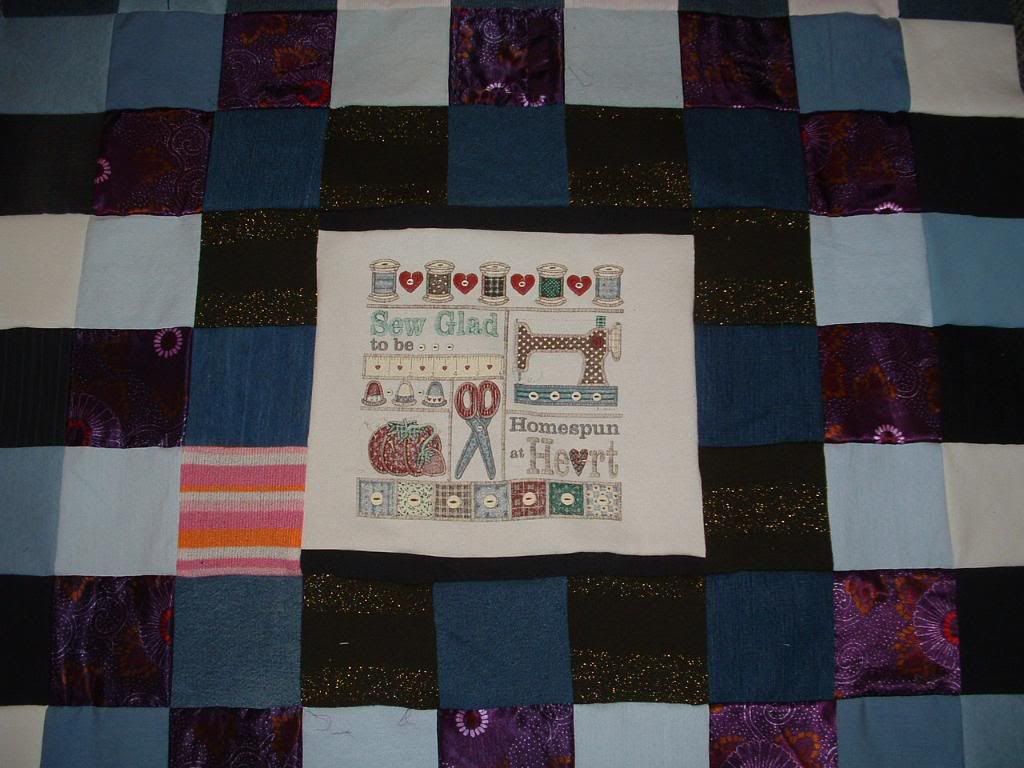 The label needs to be trimmed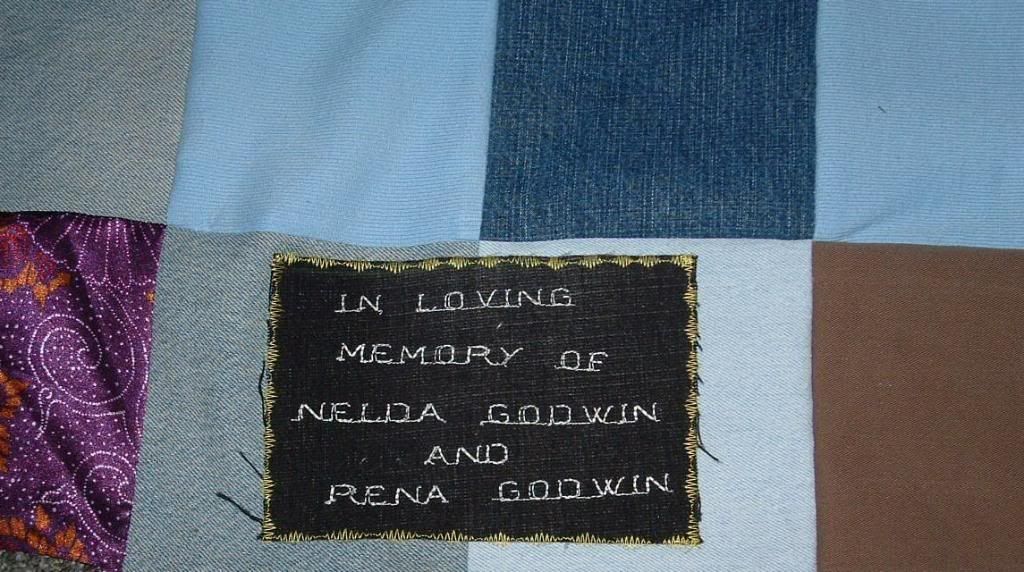 I sold my sewing machine that I used to make the labels because the Bernina I was given does letters also. I finally sat down to play with it for a little on Thursday and it was a lot of fun. TONS of stitches and more than 5 fonts for letters. I need to take pictures of it and post them. Other things we brought were LOTS of fabric - including some heavy stuff I can use for purses, TONS of quilt batting - both unopened rolls and large scrap pieces, a few pillow forms, another cutting mat and lots of pins and needles for quilting. We thought ahead and took three large plastic totes with us and brought them home full of the machine and sewing supplies. That was a good decision because the weather was bad and we didn't have to worry about everything getting wet.
One of my other aunts wants a purse and I forgot to send fabric samples to my mom, so I need to get those out in the mail this week. And I'm working on a FB page for my business, so if anyone is on there, keep checking back and I'll post the link when it's done.
Have a great week, everyone!!!!