One of the ladies at work had an old cosmetic bag that she wondered if I could make a new one. She let me bring it home. I did get another one made, I see some flaws in it, but it really turned out pretty good!
This is hers:
Hers needs to be cleaned, but she can't get it clean, plus where the hanger hooks on it's ripping.
Hers and the one I made:
Here they are hung up together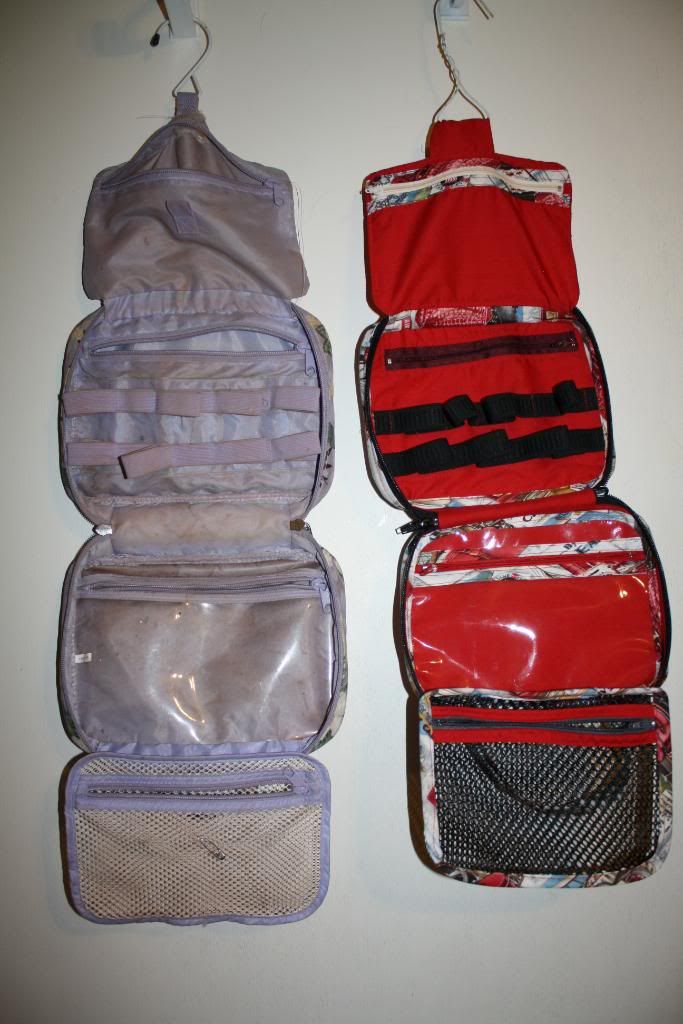 The one major flaw is that the corners don't match up, so it doesn't sit up good and that's why it's all "wonky" when hanging. I won't point out the few other mistakes. lol
It really is a nice bag, but with all the supplies (mesh, four small zippers, vinyl and one purse zipper), I'd have to charge quite a bit for it, plus the one I made took me at least 9 hours! I'm not sure if she's going to want one or not, but it was fun trying and I may fix this one and use it myself!!!!
We've got all the details of our trip to Hawai'i in December ironed out. It's charged on our credit card and hopefully will be paid off before the trip! We're putting at least half of my paychecks toward the trip and the last two weeks I worked four days each week. It was too much and really reminded me of why I left in the first place, but I'll put up with it for a little while to get this trip paid for quicker.