on the chair I bought last year to recover.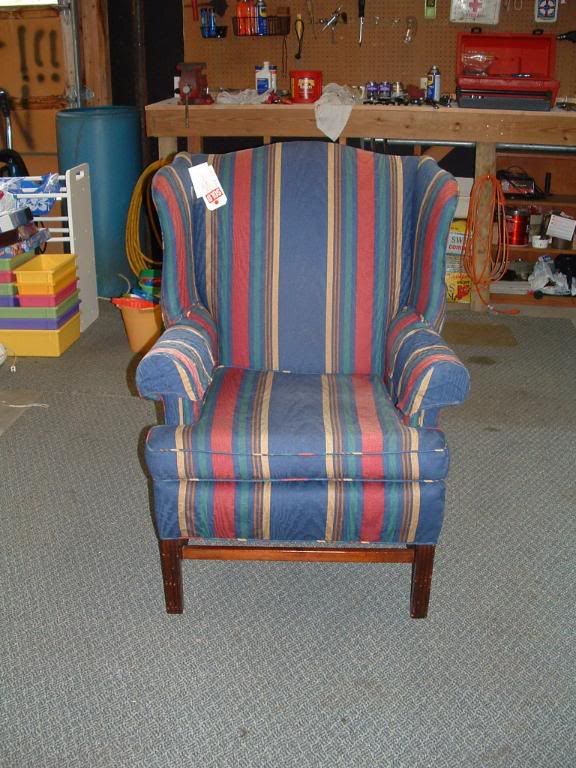 It got pushed to the side and kinda forgot about. Since I haven't started another sewing project since we've been back from the cruise, I decided to try to finish it before I start something else. Why I decided to do it when it's been in or close to 100 degrees outside, I'm not sure, but I need something to do while I'm not working full time. (My schedule for this week has been Monday and Wednesday morning and Tuesday and Thursday afternoon. More than likely I'll have Friday off, since I have for the last three weeks.)
Anyway,
here are the two previous posts about the chair
.
So far I've taken apart the cushion and the arm covers, removed the back completely and have started on the sides. Whoever recovered it before didn't use very long staples, so there are MILLIONS of them. Took forever to get the metal tacking strip off. I've also been searching online for the best place to buy the supplies I need. I don't want to have to purchase 100 feet of the metal tacking strip, so finally found somewhere were I can buy it by the foot, so that's what I'll probably do. I need to get it all stripped to find out how much I need before I order the supplies, though.
Todd and I finally agreed on what fabric to use on it. We decided to go with a basic brown, which will be much easier since I won't have to worry so much about matching the pattern, just the way the fabric is brushed. I bought it at Kinsey Interiors last year before I quit my job by their shop. I've also made a few purses out of it, so I know it's easy to work with.
I'll post more pictures as soon as I can show some more progress!!!