I've been telling myself I needed to get my camera out for a few months, but never actually took time to create another blog post. I have sewn quite a few things, but don't have too many pictures. They are mainly small things that I've found on Pinterest and wanted to try. I'll post them eventually.
For now, I do have one major project to show. You'll remember when I was so excited I found two desks at The Caring Place (thrift store here in town) for $10 each. Here they are: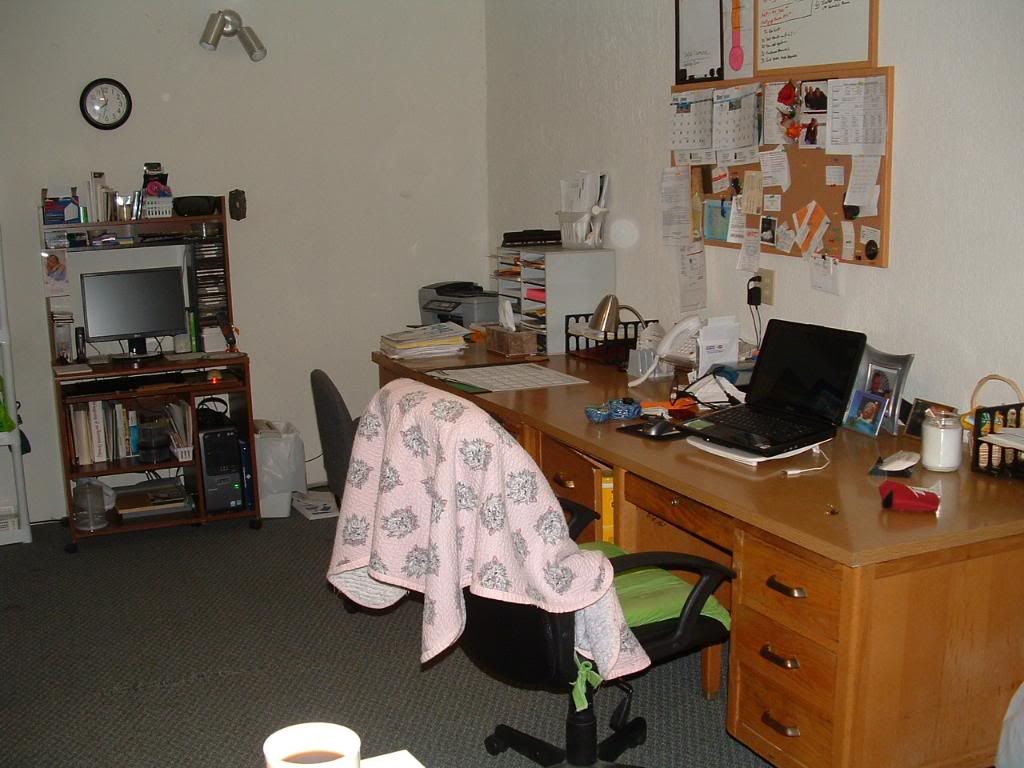 Then I added the bookcase to the top (my Ikea hack):
The thought has been going through my mind to try to paint the desk and bookcase so when Todd's Dad was healing from surgery and I thought I had lots of time at home, I decided to take the plunge. One morning I decided (as I often do) to start. Ran to Home Depot and spent $120 on paint and supplies. This was the first painting project I've done for quite a few years, but I'm very happy with the end result.
You can see in the bookcase that it's painted pink, as is the inside of the drawers and the left compartment. It was hard and took a while, but I'm pretty happy with it.
I took the handles off and found some brass cleaner and scrubbed for a LONG time, but they look lots better.
The hole in the back of the bookcase is just some foam board I had and covered it with fabric (that is also on the bottom of the drawers) and nailed in each corner. Not as sturdy as a bulletin board, but works just the same.
Another project - BINGO Bags! I saw a lady had one while we were at Bingo a while go so snapped a picture.
I decided to search on Pinterest to see if I could find a pattern. Didn't find an actual pattern, but enough information for me to make one. I made one for Sam first. Used my new sewing machine that has lots of different stitches.
You can't tell, but there are dogs between her last name. :D Hers is a little larger than mine, it holds 10 daubers.
And mine:
I made is so ti only holds 8 daubers. We went to Bingo last Saturday night so I had to buy enough daubers to fill it up and Sam forgot hers!!! lol
We finally got to meet him last month. David and Megan are back from Hawaii for good (sad we can't go visit them again) and they were here for a few days over Father's Day.
For each grandbaby, there are a few things I make. I've already made him an afghan, so I decided I needed to start his name quilt. It's just his name appliqued onto the sandwich, but I do hand quilt the lines. So it's in the middle of our living room right now. Hopefully it will be done by the time Todd makes it home again.
And finally!!!!! I decided to splurge and replace the curtains that were in the living room by the kitchen. While at JoAnn's a few weeks ago, I noticed they had their Home Decor fabric 50% off, plus I had a 10% off entire purchase coupon, so decided to get some more fabric that I made the curtains for the sliding glass doors in the living room. Anyway, the fabric for this small window cost over $80 - and that's at 60% off!!!!! I made them the same as the others and it looks MUCH better!
The bad part is that Todd now wants me to make some for the two LARGE windows we have in the dining room and front hallway. Those windows are about 4 times the size as this one, so we'll have to wait until we build up some more money until that's done.
I have more pictures of my garden that I'll post on my other blog soon. The problem I have is I've been using Photobucket to keep my pictures and I'm running out of room. I need to either pay for more storage space (and I'm to "frugal") to do that, or delete some photos to free up some more room. Soon I'll need to go through them and decide what to keep and what not to keep.