Since I have the tablerunner done, I decided to get a new tablecloth because I was tired of the cheap one I had on the table. I found a really pretty off-white one while I was shopping at Bed, Bath & Beyond on Saturday morning and it was the perfect size (our table has a leaf with it, so the tablecoths I usually buy are long enough to fit when the leaf is in it). This is just a few inches bigger than the table, so it fits perfect! Anyway, I decided I didn't want the tablecloth to get too dirty right away, so decided to make a couple placemats to match the tablerunner. I started Friday night and finished them Sunday afternoon. I only used the "Friendship Star" block, but I think they turned out pretty well! I did a much better job on the stars on these than I did on the tablerunner. I ran out of the dark blue fabric, so had to use pink for the binding on one, so I guess that one will be mine and Todd can have the one with the blue binding.
Just as a re-fresher, here is the tablerunner:
Todd's placemat: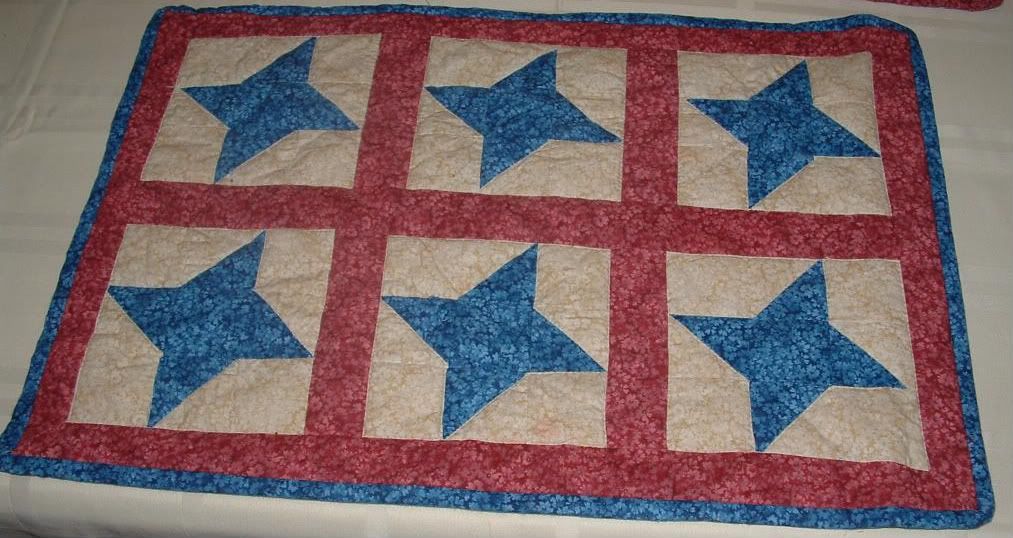 My placemat:
And here they are together on the table:
I had taken a couple other pictures (at least I thought I did), but when I uploaded them, there were only three. I was going to take a couple more, but my camera is acting up and won't let me. The LCD screen on it quit working about a year ago, and now I can't take pictures at all! I'm going to have to tell Todd I need a new camera - and the one I want costs $900!!! Anyone want to break the news to him for me???????????
Not exactly sure what my next project will be. I have a new idea for a purse that will be really cool, and I still haven't worked on my laptop case much. We'll see.