I've been going to Goodwill and the Caring Place (thrift shop) every Saturday when I'm out going to the bank and running errands. The Caring Place has quite a bit of furniture and have certain colors of tags on sale, but today when I went they had ALL the furniture 50% off! I had seen this chair there before and it was $20 and almost bought it, but always talked myself out of it. Today I decided $10 was a good deal. I met Todd there when he was on his way home from work since he had the pick up.
Here are the pictures I took - right now it's in the garage and will be until I start taking it apart.
Front: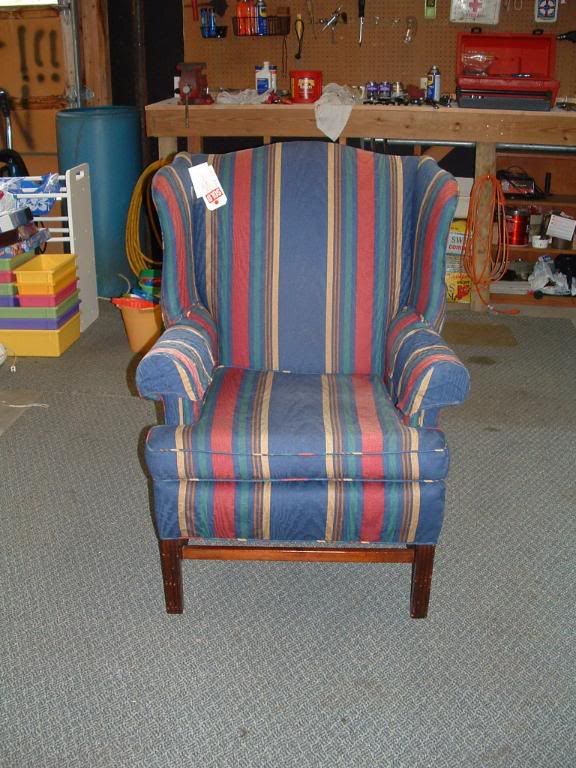 Back:
Side and back:
I can't decide if someone has already recovered it or not. There are a couple places that are coming apart, but the bottom looks pretty good so who knows.
I bought a book at Hobby Lobby on how to recover furniture, so that will come in handy. Once I figure out how much material I need, I'll decide what to use.
This fabric I bought to make my laptop bag out of (which was never made) would possibly work on it.
Anyway, hopefully I'll be able to start tearing it apart sometime soon. As long as it's not too hot in the garage, that is. The month of July was the HOTTEST in Austin since they start keeping records back in the 1800's. And July typically isn't the hottest month.
I'd love to hear everyone's opinions on the fabric. I'm wondering if the print is too big......