I used to be a big fan of the "Daytimer" products, but since I made my purse and wallet, I haven't been using my old Daytimer planner.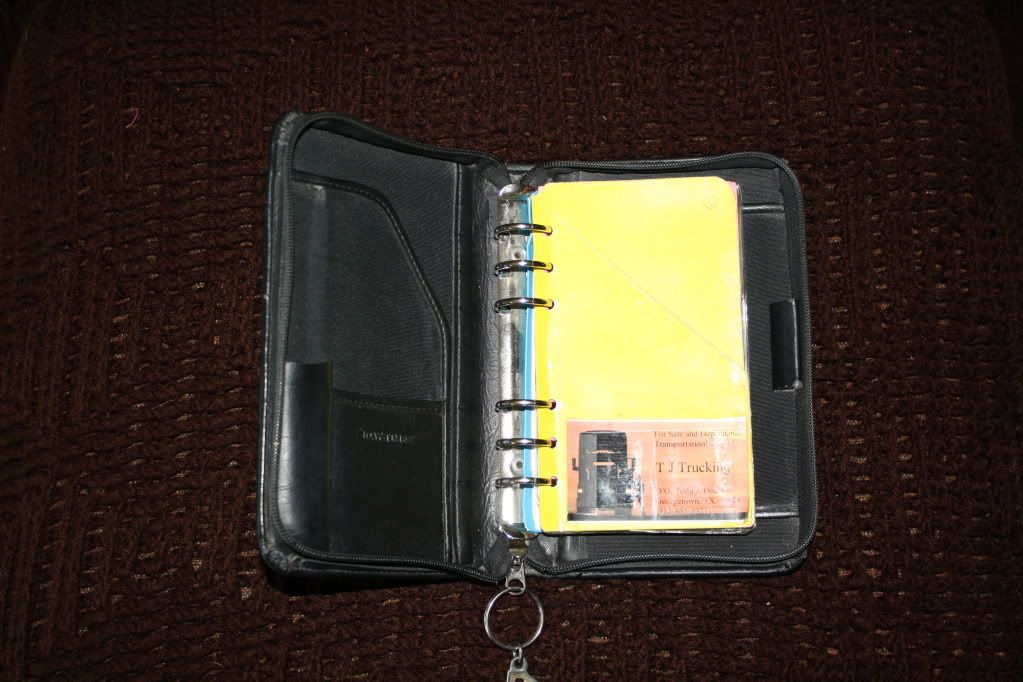 Plus, it's a little small. These pages that hold credit cards are about 4" by 7"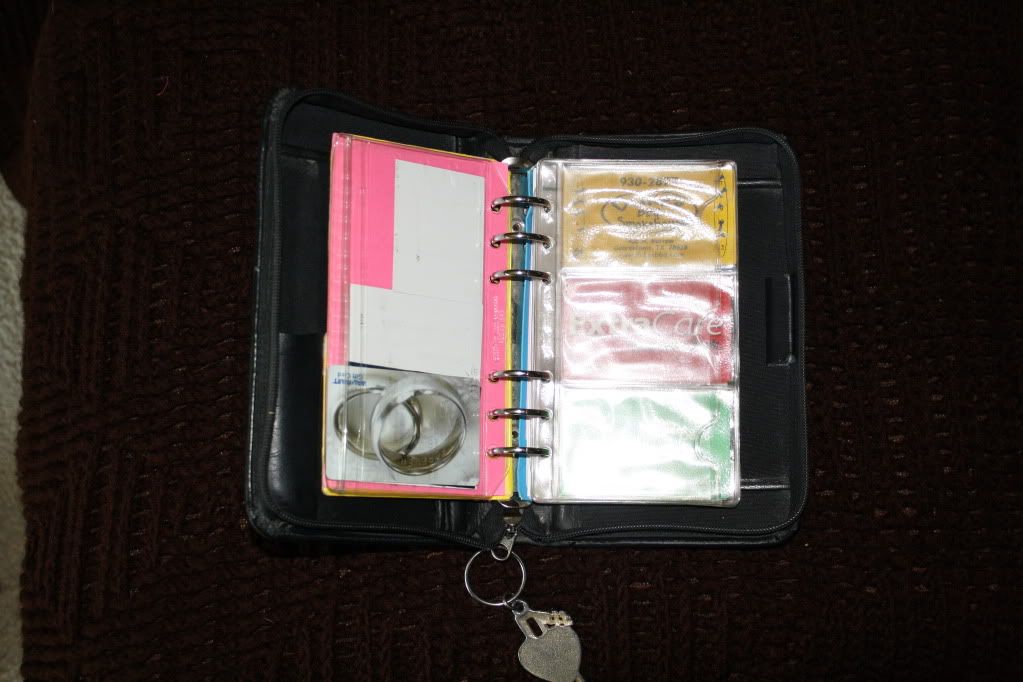 So.....I went to Office Depot after work the other day to see if I could find something else. They had the perfect size of binder, about 7" by 9". The only problem was the rings were 2" and that was too wide. I decided to look online and found the same size binder with 1" rings - PERFECT! I looked everywhere to see if I could find loose-leaf paper to go in it and couldn't find any. I'm sure someone probably makes it, but I was tired and just decided to order a Heavy Duty Hold Punch. The punches are adjustable and you can have up to 7 holes! Ordered them and they arrived yesterday so I sat down after work last night and put my new organizer together. And here it is!!!!
Front - I wasn't worried about the color because when I make my new purse, I'll also make a cover for the binder so it closes and has a place to hang a pen.
Inside - I goofed and ordered a binder with a pocket on the inside. I need to decided if I want to just cover up the pocket (because it would be a good place to hide something), or if I want to order another one that doesn't have a pocket. For now, I'll just use this one.
I ended up having to cut a regular size piece of paper, but I got two small pieces out of one regular size. Each piece of paper is approximately 5 1/2" by 8". It doesn't sound like a lot, but it really gives me more room to write things. I also found somewhere online a place to print off lined paper
landscape
, so used that then cut the paper (I did also have to cut about 1/2" off the long side of the paper before I cut it in half ) and put holes in it. I decided to print off a calendar to put in, and I also made dividers. Labeled them with my new DYMO label maker - LOVE IT!!!!!!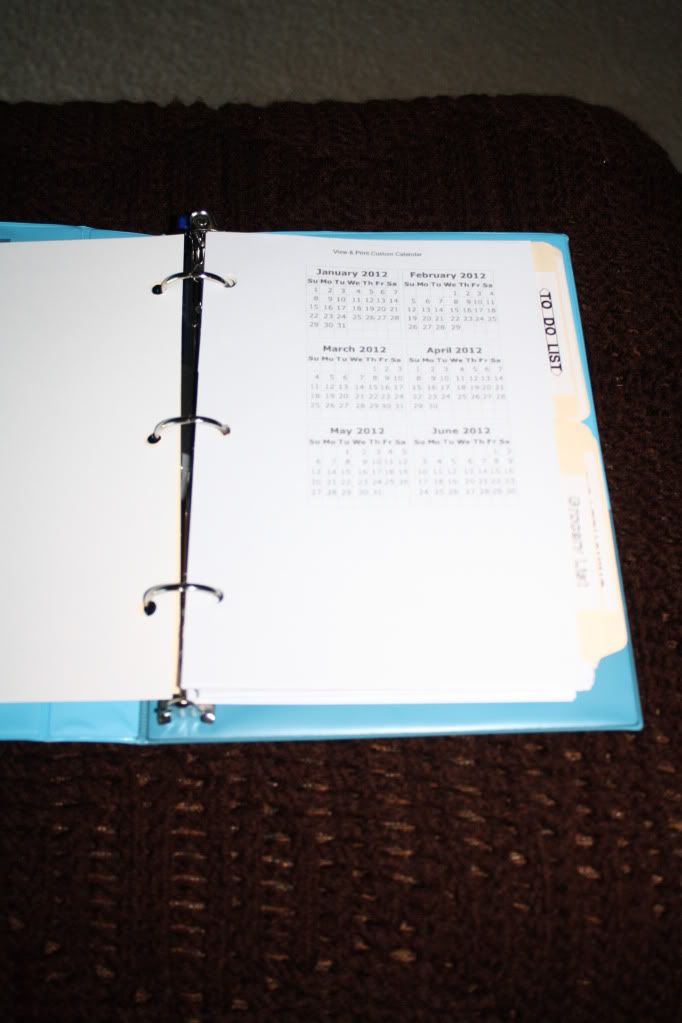 Of course, Office Supplies are tax deductible for Todd's business, so I made sure to have part of the binder dedicated to his business. lol I also put the list of what is tax deductible so it's handy when I'm out shopping.
Inside the back cover there is a pocket, so I stuck some post-it notes there. I think I'll add at least one or two pockets there when I make the cover.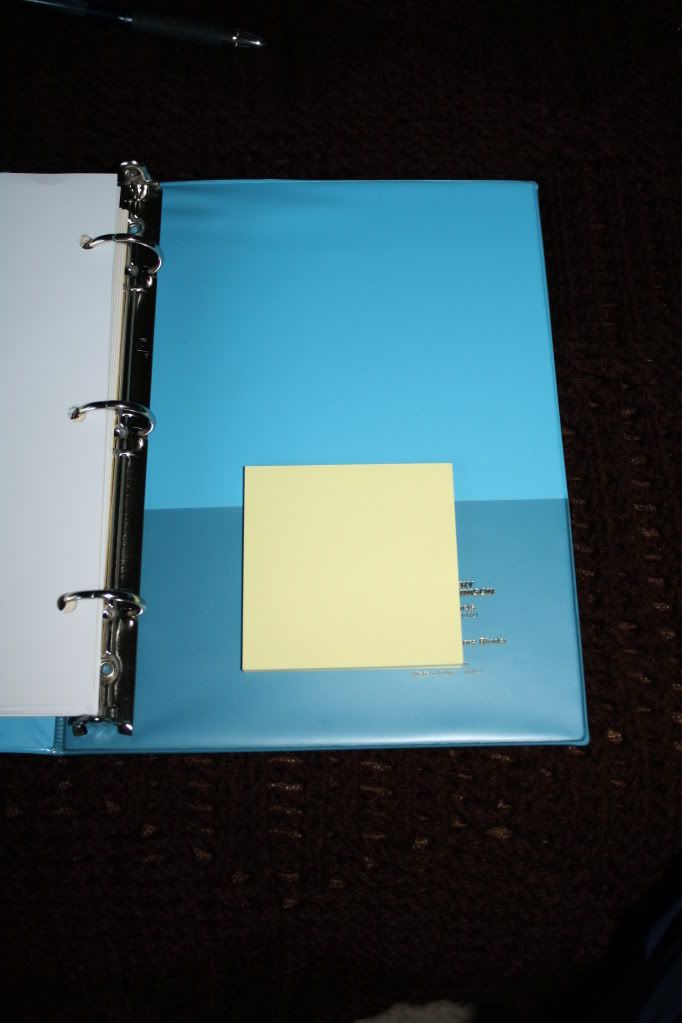 The only other thing I think I'm going to make are some folders to hold my coupons. I won't have to use my coupon holder then, but I don't use lots of coupons anyway.
The dividers are labeled:
Calendar
(with my list of birthdays and anniversaries here so I can get cards when one comes up),
Grocery List
(coupons will be kept here),
To Do List
,
TJDJ Trucking
,
Original Designs by Jyl
(JoAnn's coupons will be kept here),
Money
,
and
Travel
(to keep info on our Hawaii trip for this Christmas we're starting to plan).
I also have a couple blank dividers and some extra paper.
Just for comparison - here's the Daytimer on top of the binder to show how much larger the binder is:
The thing I really love about it is that it's all loose-leaf, so I can change things around when I need to. I'm really anxious to start on my new purse so I can make it large enough to carry the binder with me everywhere. I am going back to work part-time for a little while, but only because someone just quit and I'm going to put the extra money into our "Hawaii" fund. Although now I'm worried about being able to make enough product to sell at the craft shows I was wanting to do this spring/summer. I'll have to see how things go working three days, and having four days off.
Keep checking back - I'll post pictures when I start on my new purse and I'll post updated pictures of the cover for the binder!!!!!