BUT I did finally snap a couple pictures of the stained glass piece my sister made me. Mom and Dad brought it down in November when they came to visit.
Todd and I decided to put it in one of the few windows that does not have a mini-blind. So we decided to put it in the dining room. It's really pretty and looks GREAT from the outside when it's dark. Isn't it pretty!!!! Angel and Alyssa have fun standing in the "rainbow" when the light shines through it just right. I love it!
And so you can see how high up the window is....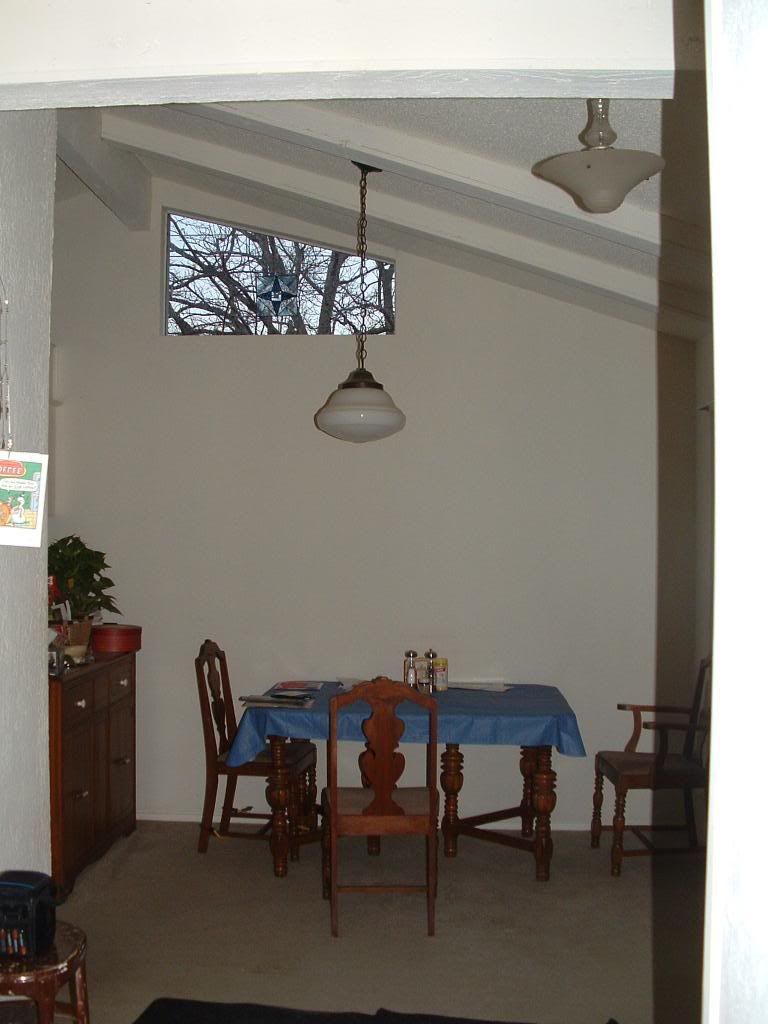 My project for this weekend is to make me some Yoga Pants to wear when I work out. I only have three pair of workout pants that I like, so found some information online yesterday and whipped up a quick pair out of some old black knit fabric that has been in my stash for years. They turned out OK, but I'm going to look at patterns at WalMart this weekend, then hopefully I'll be able to find some really cheap (as in $1 or $2 a yard) to make some out of. I figure instead of paying $20 for one pair at Old Navy, I should be able to make three or four pair for that price, PLUS, I'll have another project to post pictures of! :D
I'm at a stand-still on my quilt. I was not going to start any other projects until I got the quilt in and started on it, but the wood pieces that I have for my quilt frame are not long enough, so Todd's going to have to make me some more. Of course, he says he has to buy a table saw in order to do that, so it may be a while until I can start on it. The thought has crossed my mind, that he's using that as an excuse to buy a tool he's been wanting for a while..... Any thoughts????
On the workout front, it's working so much better for me to go early in the morning instead of after work. My problem is that I know my alarm is going to go off at 5:15 am, and it seems every day I wake up at 5:00, then can't get back to sleep. I think next week I'll try just getting up at 5:00 and see how that goes. Besides, then I can beat the girl to the gym that is always on the elipitical machine. LOL
Hopefully I'll have something fun to post next week!!!!!!
Have a wonderful weekend, everyone!!!!!!!!!!!