I loved the first one I made, so made three more out of the same fabric. I have other shopping bags I've made that I used to use, but they were of all different fabric, so now I have four that match! Three are the ones like WalMart bags, and the other one has a long handle on it. I especially like it because I can throw it over my shoulder to bring the groceries into the house. This bag will hold two gallons of milk easily and I put a snap on it, so when the bags are not being used, the other three are kept inside it.
And I DID figure out how to do the automatic button holes!!! YEAH for me!!!! They are VERY easy!!!!! I also added little loops on the back of each bag, so they fit on the holders at Walmart so they are very easy to fill. :D
Anyway, here are a few updated pictures:
This shows where the button holes and loop are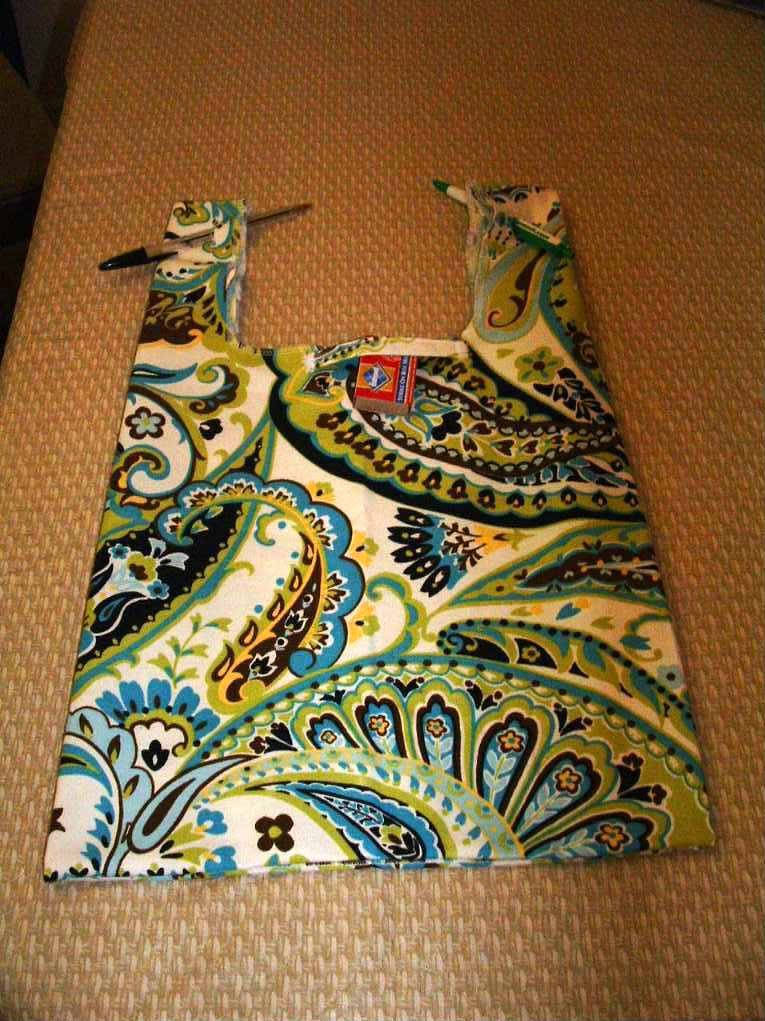 All four of them full of groceries - PRETTY!!!!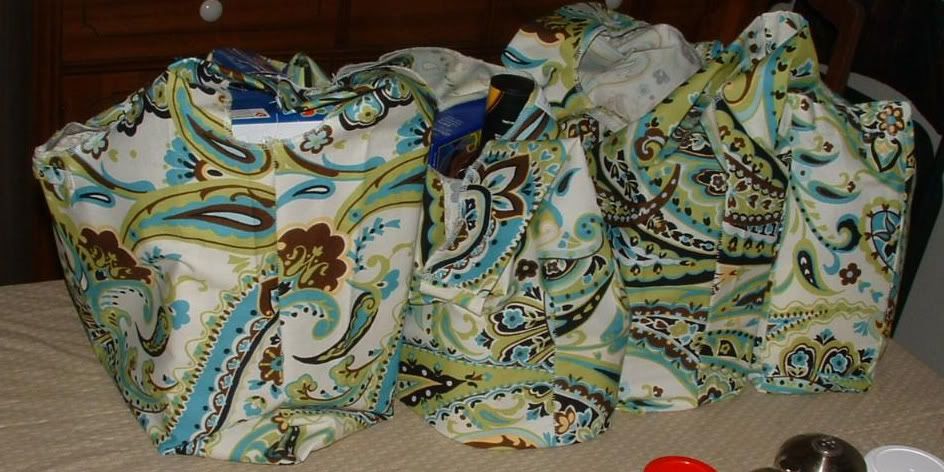 The large one with two gallon jugs - the snap still closes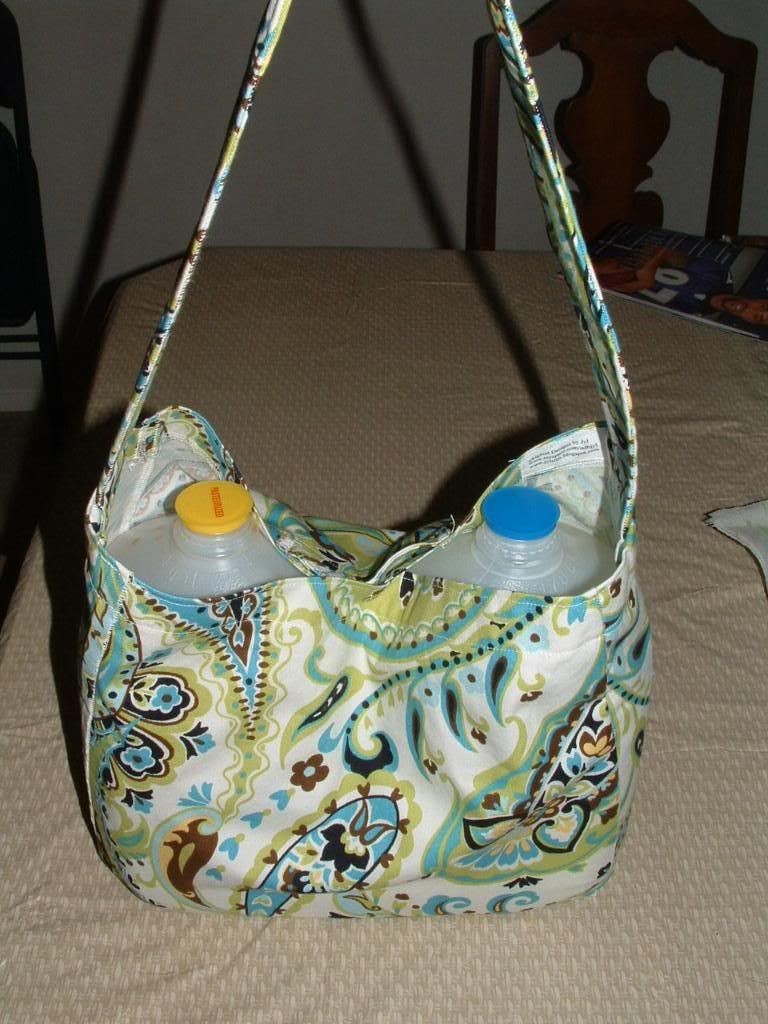 While I was at it, I decided to make a few to take to Church for next Monday's fundraiser. I noticed there were only two people signed up to make "crafts" for the country store. I already have a purse done(See "BUSY BUSY BUSY" from Oct 17), and I finished three more shopping bags out of outdoor fabric. Here they are: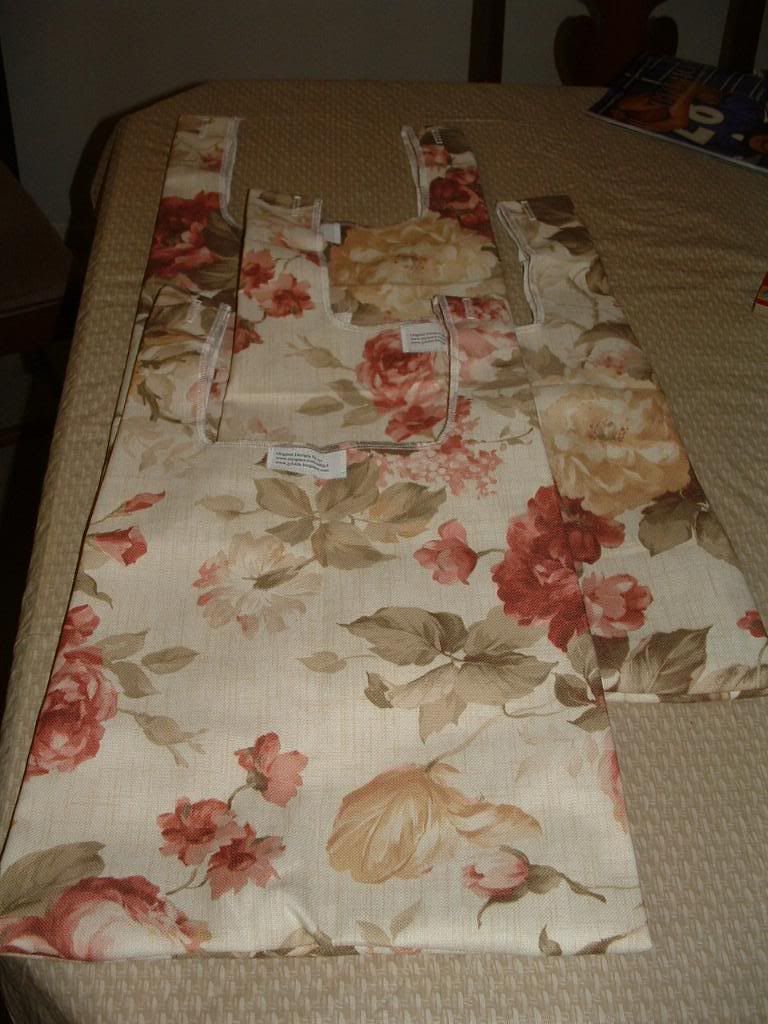 I have some more duck cloth (heavy fabric) that I'm going to make a few more (hopefully tonight) to also take to church. I need to have everything there on Sunday afternoon. Todd and I are also volunteering to work on Monday, the day we have "Wurstbrauten" (sausage supper) - one of the main fundraisers our church puts on each year.
I have a couple more projects to work on. A couple weeks ago there was someone at church looking for help sewing school kits. She finally contacted me and we will be getting together ( along with another church member who volunteered to sew) Thursday night. She needs 50 bags, so that will be 25 for each of us to do (she doesn't sew). Also, Kate called the other night to let me know she received her purse (birthday present), and asked if I could sew some welding caps for her hubby. I'm not sure what they are, but said I'd be happy to try. Found out later that MY hubby has a couple, so he's going to bring an old one home for me to take apart and use as a pattern.
So I'll be busy in the next week or so, then will probably start thinking of Thanksgiving and Christmas. We are not heading to Nebraska for either holiday, so that means I'll make a large meal for us at home. Plus, my parents are planning to come down for a few days sometime between now and Thanksgiving.
Oh, and WE PAID OFF OUR MOTORCYCLE!!!!!! **HAPPY DANCE**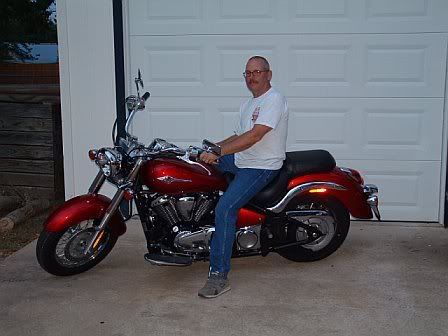 We are now on our last credit card and will only have the mortgage by the end of the year!!! Now everything in our "toy box" (i.e. garage) is PAID FOR! We have the titles to the pickup, car, boat and motorcycle.