I'm finally taking the time to update my etsy shop
http://www.etsy.com/shop.php?user_id=5902297
, so thought I'd update here that all I have for sale, so if you are intersted, just e-mail me at: jylslife (at) gmail (dot) com.
1) $40.00
The latest purse I made -
This Beautiful Brown handbag (my "Samantha" Design) is made out of upholstery fabric, so it's very sturdy. Lining is beautiful gold shimmery fabric. All four sides have pockets on the outside, the longer ones also have velcro for closure. Magnetic snap on flap for closure. Inside, there are six pockets of various sizes and attached D-Ring to hang keys or sunglasses on. Pockets are top-sticked with decorative stitch for accent.11" x 8" x 4". Handle has 17" fall.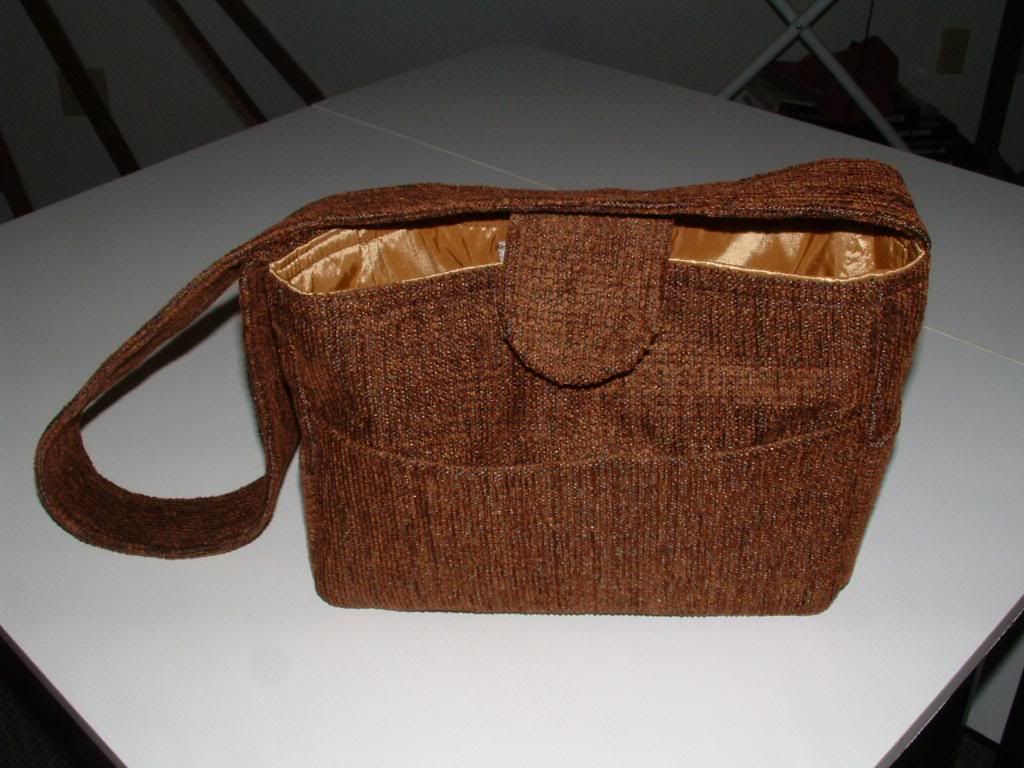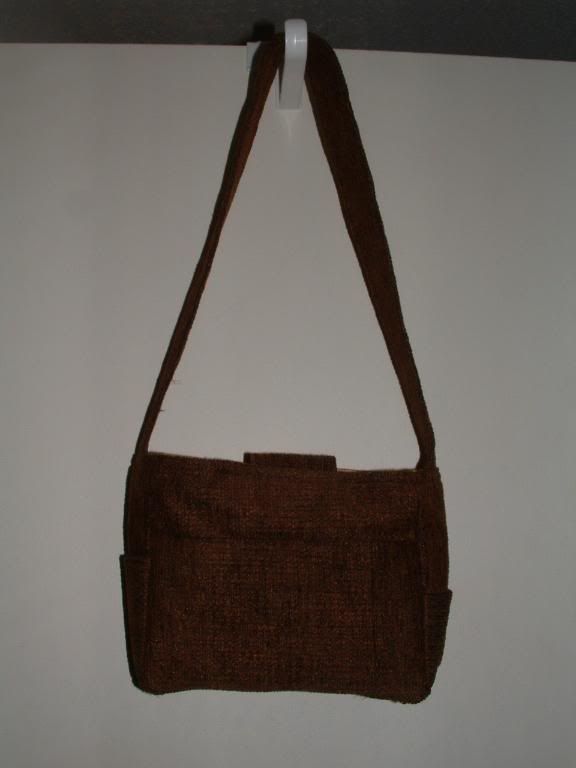 2) Purse/Tote with matching wristlet $40.00
This red and white purse or tote bag was made with heavy Ikea fabic and interfacing was added to make it extra sturdy. The lining is red fabric with tiny white hearts (also interfaced). The bag stands 12 1/2 inches tall, the opening is 16 inches wide and the bottom measures 11 1/2 by 6 inches. The inside has 12 deep pockets of various sizes and a hanging d-ring for keys or glasses. Great for anyone who needs organization in their life! There is also plenty of room to carry wallets, books or could also be used as a diaper bag.The handle has a 20 inch fall and is 1 1/4 inch wide. A cute red heart button is used to close the bag.Also included is a matching zippered wristlet. Wristlet is 3 1/2 inches tall, 6 3/4 inches wide and 2 3/4 inches deep. The handle is 7 1/2 inches long.Spot cleaning is recommended for both items.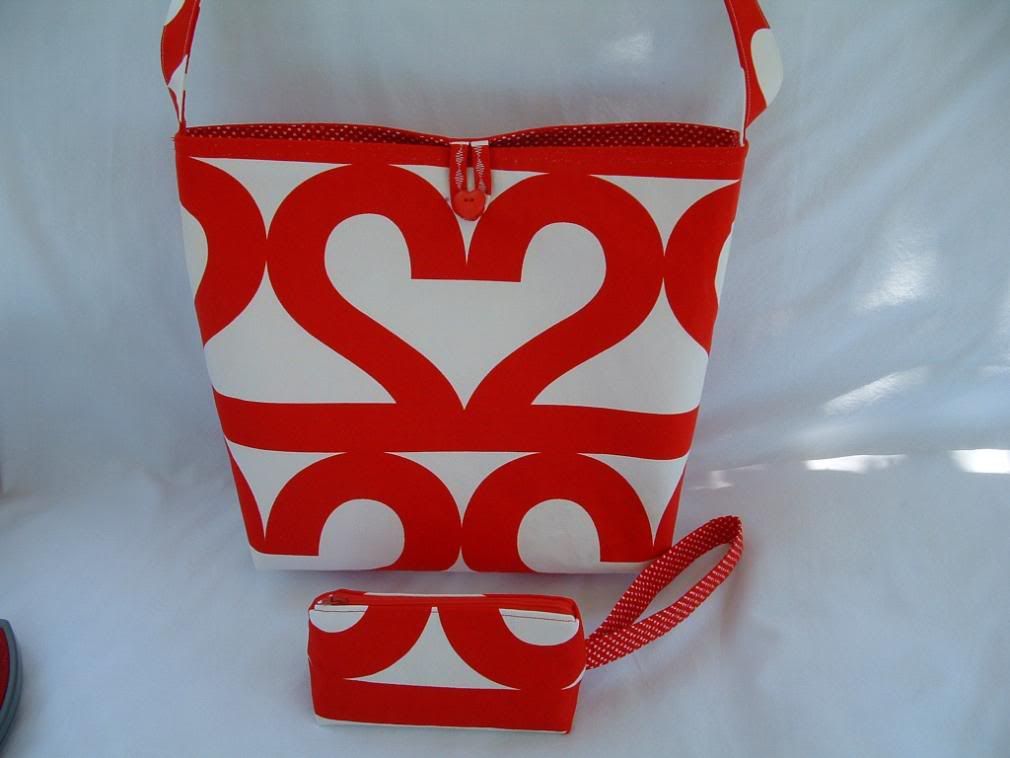 3) FUNKY FLOWER Purse $15.00
This purse has colorful flowers with a black background and white lining. Two large pockets on each side of the purse (with velcro closure), one side has an attached d-ring to hang keys on. All the fabric Is interfaced so stands up easily. Magnetic snap closureThe White inside has five pockets of various size, and the pockets are top-stiched for accent. I used variagated thread, so it changes color and matches the flowers on the outside. This is a deep purse - it is 11" tall and the bottom is 9" wide. Handles have 16" fall. This purse come with a matching 7" x 4.5" wristlet!!!!!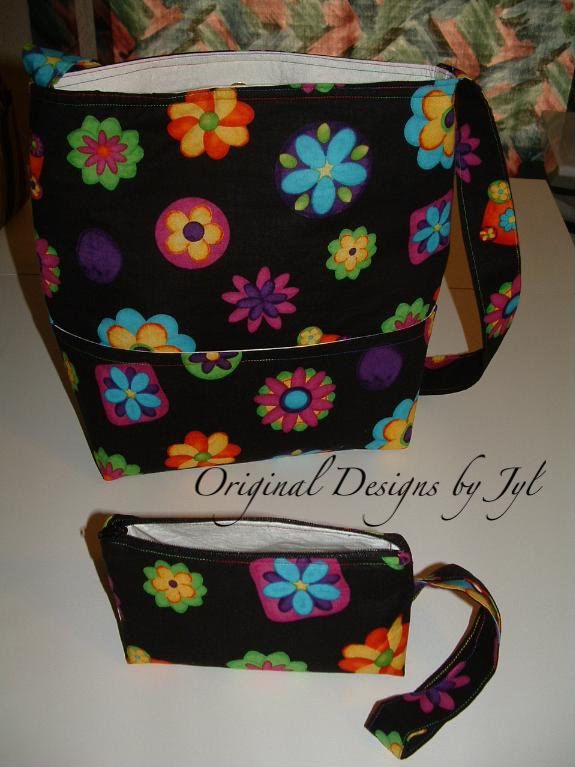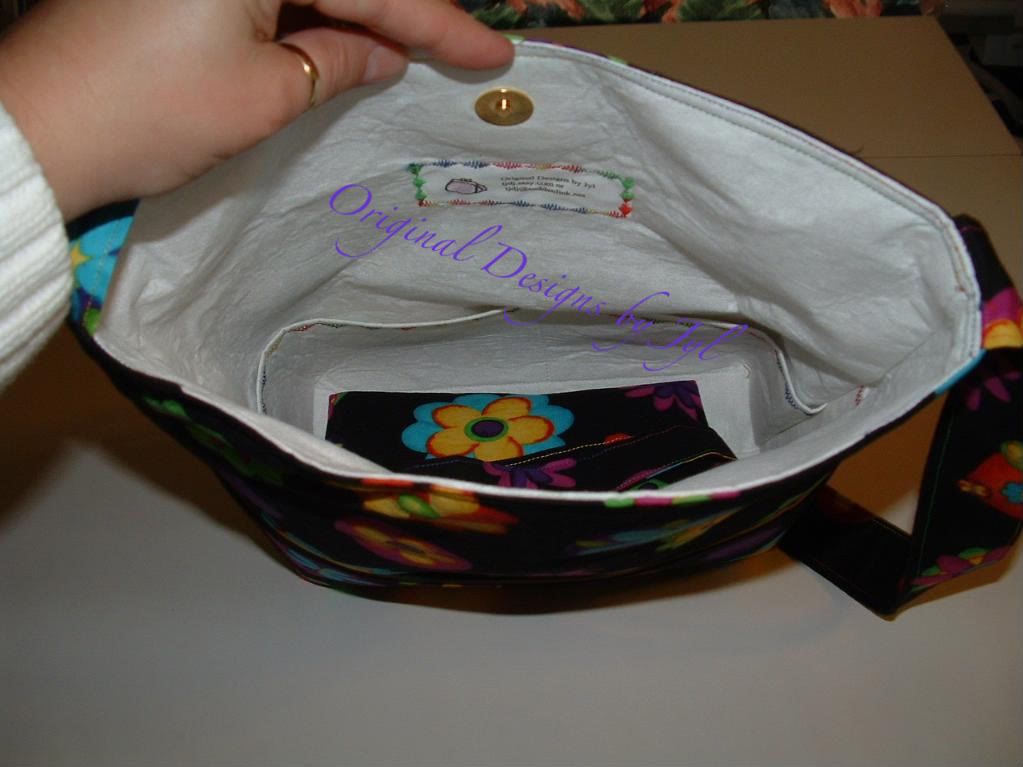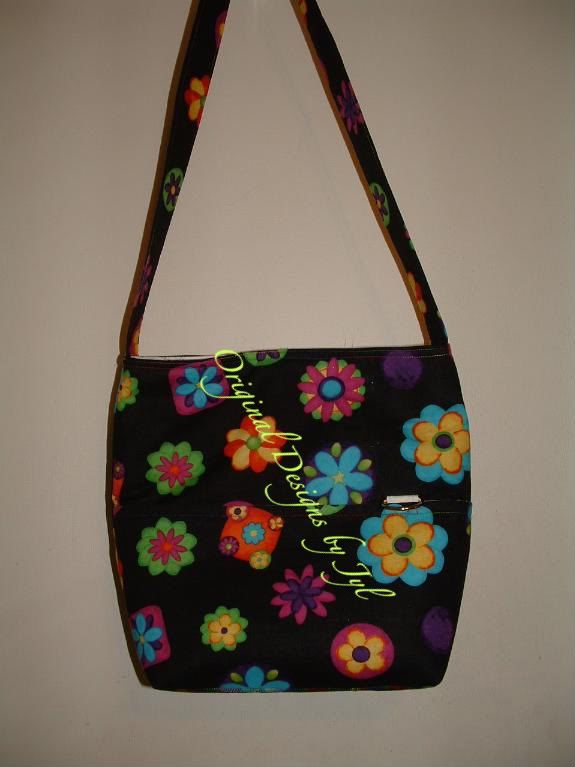 4) Lime Green Handbag $15.00
This cute Lime Green Handbag (my "Samantha" Design) measures 11 by 8 inches with handles that have a 16 inch fall. Pockets on each side on the outside (velcro closures on the large pockets) and also pockets on the inside to keep you very organized. There is also a d-ring to hang keys on and it closes with a magentic snap.Lots of heavy interfacing so the bag stands up very well.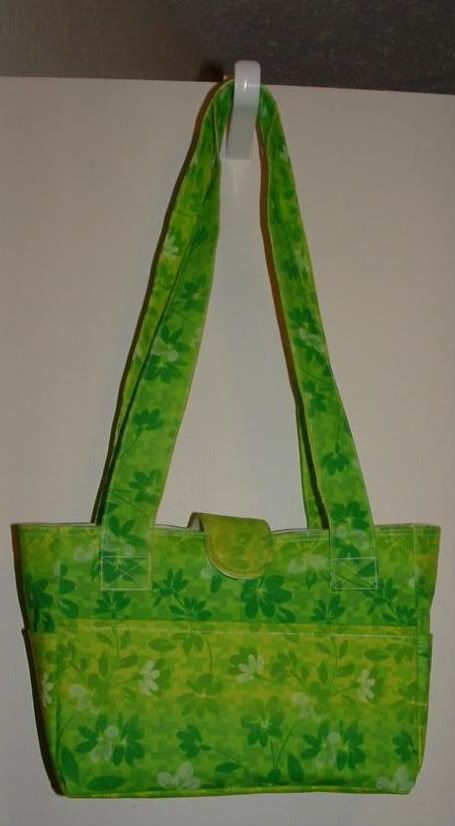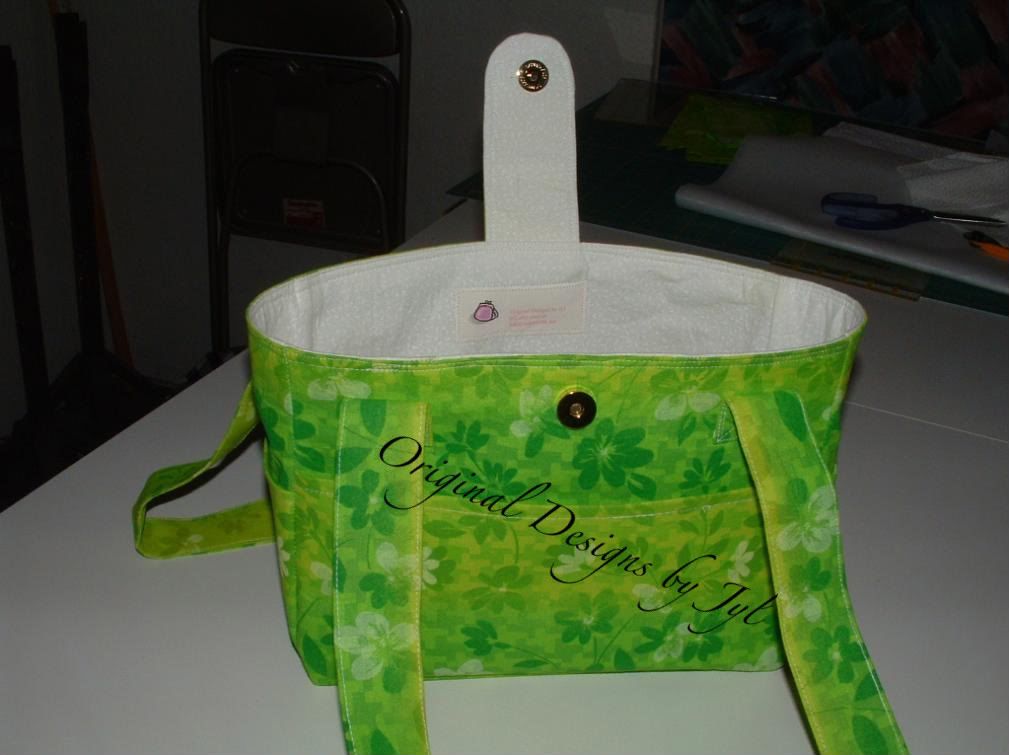 5) Oriental Messenger bag with matching cosmetic bag $50.00
This is my "Tabitha" design bag - classy messenger bag with matching cosmetic bag.Made with heavy interfacing, beautiful oriental fabric with matching cream interior, accented with red satin.The messenger bag:Height 9 inchesWidth 12 1/2 inchesGussett 4 inches4 outside pockets accented with red satin - side pockets are 4 inches tall, front and back pockets are 5 inches tall with velcro closureStrap has a fall of 15 1/2 inches (from shoulder to top of bag)5 inside pocketsD-ring on frontThe matching zippered cosmetic bag is 7 inches wide and 4 inches tall.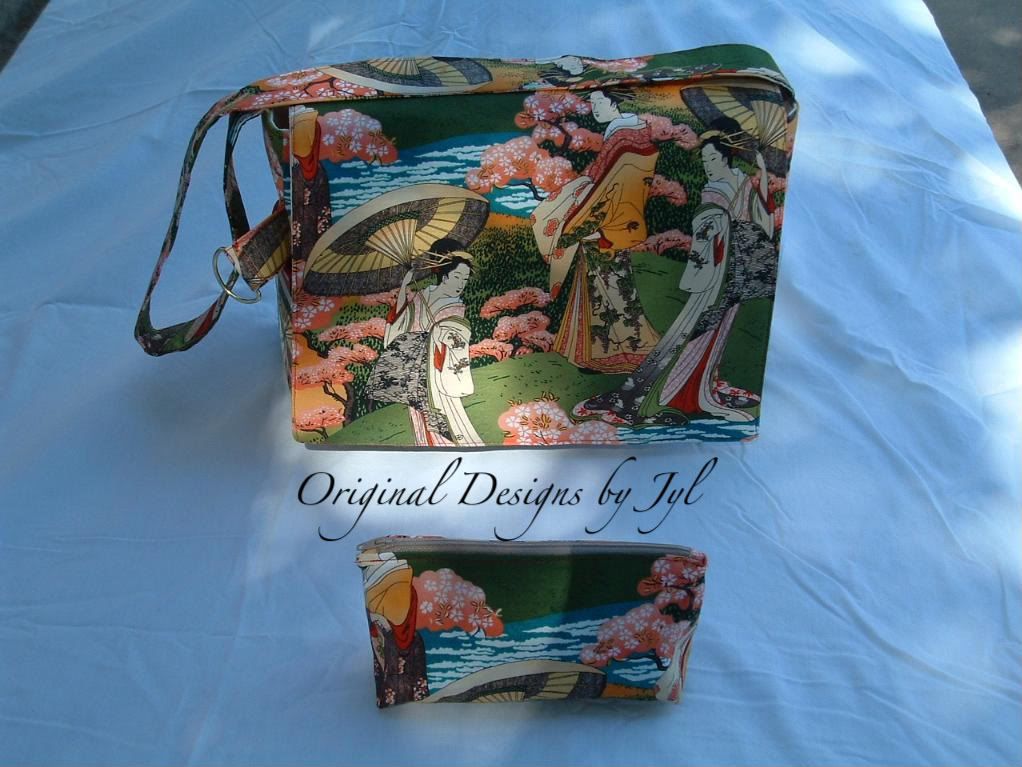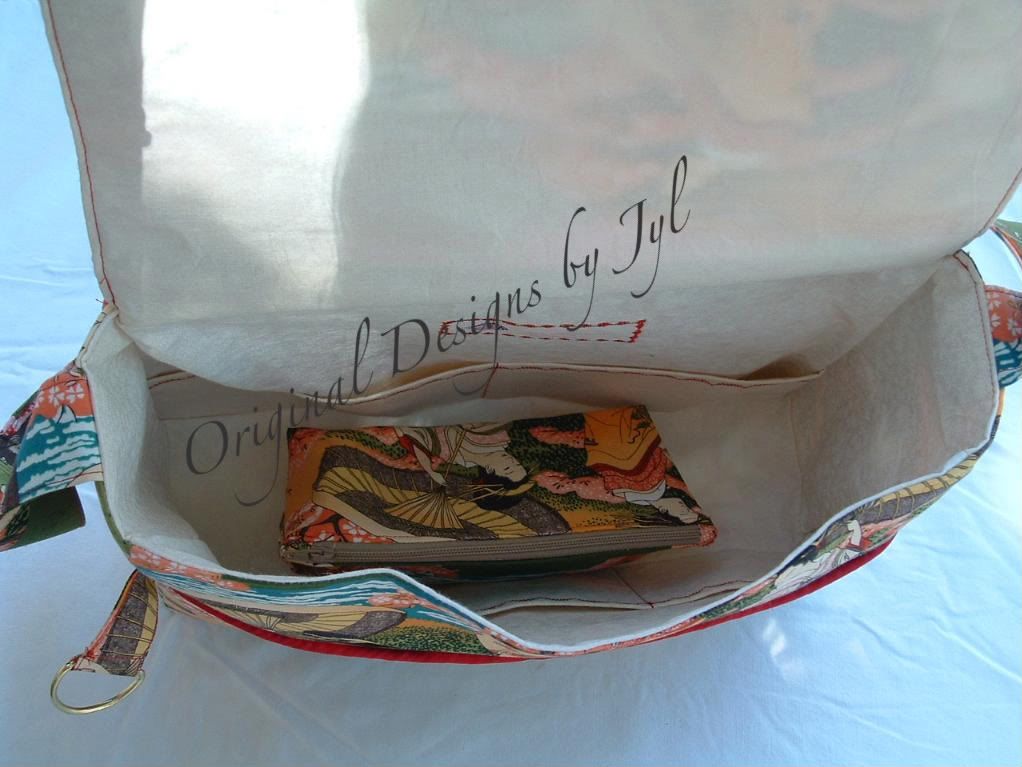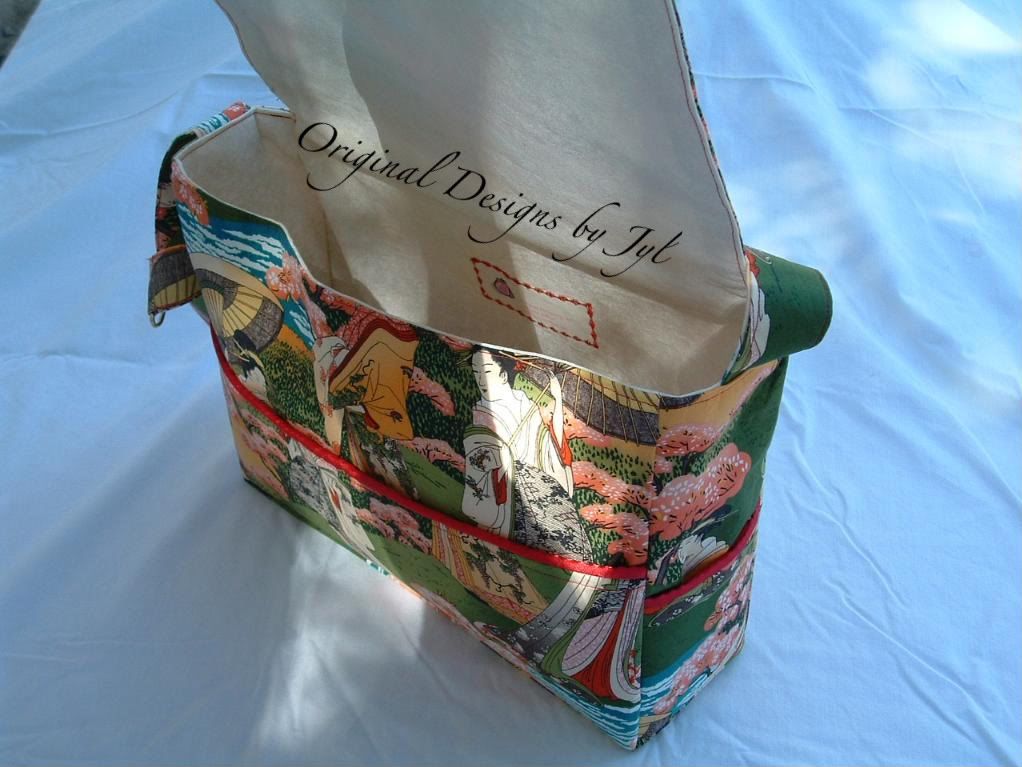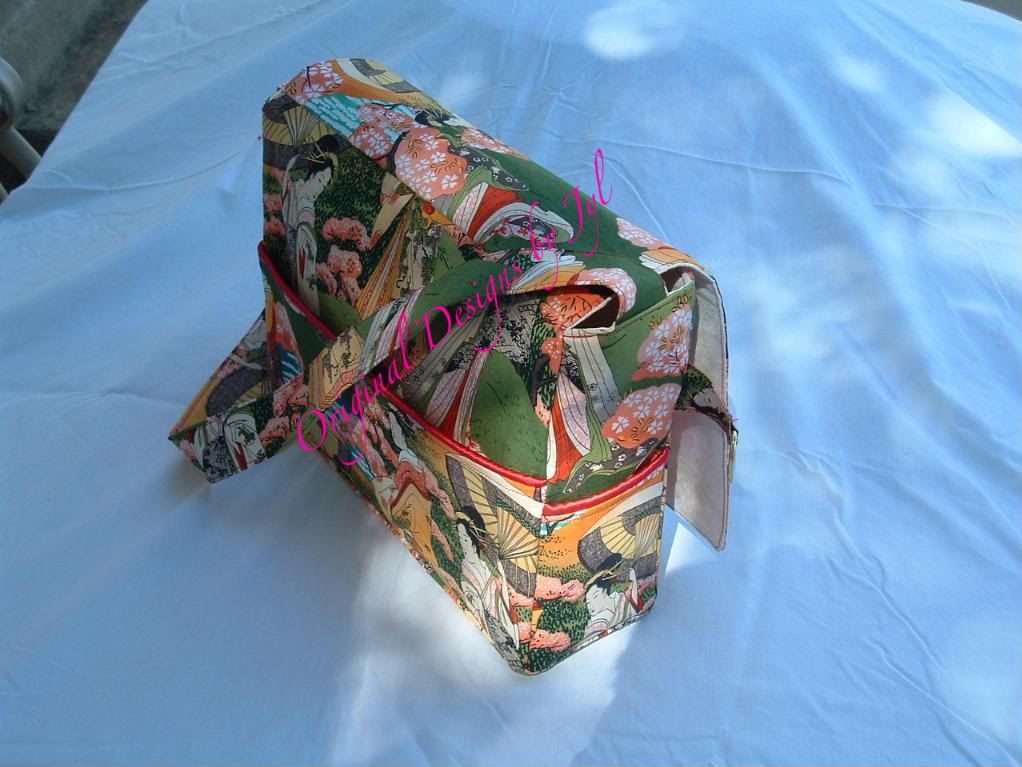 I have a few other items on my etsy shop - cosmetic bags and diaper/tote bags, also. Please let me know if you are interested in anything! I'll also make custom items!!!